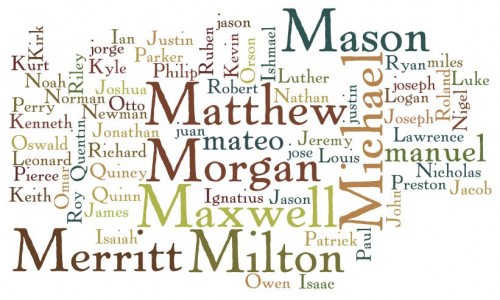 Choosing a baby name can be a difficult task. If you're like my husband and I and want a semi-original name, this can become even more challenging.
For our daughter, we had a name picked out years in advance. As in, before we even got married. We liked the name and it always stuck with us. It worked out perfectly too since the name began with the same letter as his name and then we picked out a middle name that started with the same letter as my name. Yeah, we're those parents.
For our second child, we know that we'll have a hard time choosing a name. I'm not sure why we're already thinking about this. Perhaps because we had absolutely no boy names picked out the first time around? Not one. Luckily, the sonogram was right and she was actually a girl, because otherwise I think we would have ended up with Baby X for a few days while we came up with a last-minute name.
I think we'll be fine if we have a girl, as we seem to come up with many names we like for girls. But, boys? That is our downfall. We want a boy name that is strong, manly, semi-original, but not stereotypical. Oh, and it'd be nice if it started with an M to match my first initial. Too much to ask for?
With us having fun at trying the various methods for conceiving a baby boy, it's very possible that we'll end up with a boy baby this time around. And, I certainly don't want to be stuck at the hospital with no name picked out.
So, my friends, let's have some fun. You give me some of your favorite boy names – whether they start with a letter M or not – and I'll start harassing the husband with a long list of names to consider.
Ready? Go.
Did you have a hard time coming up with baby names or was it an easy task?
{ Comments on this entry are closed }