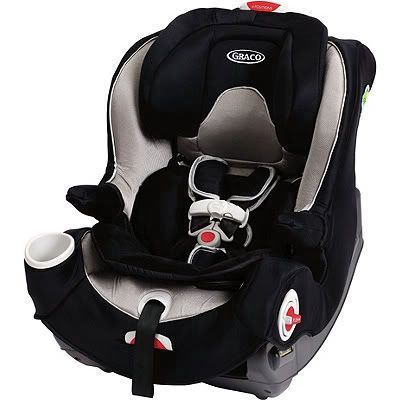 My baby boy is nearly one year old. I know, can you believe it?! It really feels like I just announced I was pregnant. His first year has gone by so fast. Too fast.
With his first birthday coming up, one of the things we'll be needing to do is switch out his car seat and turn him around to face forward, which I know he'll love. Something I know from having done this with baby girl already is that we've gone through three car seats: the initial one that worked with the stroller, the one that worked both backwards and forward, and finally the booster seat, which we're still using with her. That's a lot of car seats!
That's why I agreed to try out the Graco Smart Seat All-in-One Convertible Car Seat as part of my participation in the Walmart Moms program. When we first received it, we were shocked at the size of it; it's huge! But, at the same time, we could tell it was high-quality. Plus, the seat, straps, and head rest are super padded and seem really comfortable.
We installed the new car seat – well, actually, my husband installed it – and tested it out for the first time on a 4-hour road trip to Miami. Baby boy looked so big in his new chair and it was clear he was comfortable. The fact that the seat reclines made it easier for him to transition from his infant car seat to this one. It was really easy too to switch it from rear facing to forward facing. There is a base that stays put, so you only have to turn the actual seat around instead of having to take the whole thing out and re-install it. We all know what a hassle it can be to properly install a car seat, don't we?
The Graco SmartSeat All-in-One Car Seat is working out fine for baby boy and our family. I can see he is comfortable and safe in it and we like its ease of use. Now if we could just work on keeping baby boy a baby…who can help us with that?
What features do you look for in a car seat?
Disclosure: As a member of the Walmart Moms program, I was compensated for this post. As always, all opinions are my own.
{ Comments on this entry are closed }