{Sponsored content}
A baby's bath is easily part of most parents' bedtime routine for baby. Everyone has their own bath time ritual for baby, bath games they play with baby, and preferred bath time products to help baby quiet down for the night. Using relaxing baby washes and lotions is something I always found useful and even enjoy for my own skin, so naturally we try to make it a part of our baby's nighttime routine. Let me share more with you about our baby's bath time ritual, plus some fun information on a Mother's Day promotion between Walmart and Johnson & Johnson.
Our baby's bath time usually consists of some fun tub games while enjoying the soothing water and getting clean. We normally have an empty cup in the tub, a few squirt toys, and of course, a boat or rubber ducky. While our baby boy plays in the water, we bathe him using a soft rag and body wash. Because he has eczema, we now use fragrance-free products, like AVEENO® Baby Soothing Relief Creamy Wash, but when our daughter was a baby we often used Johnson's baby wash. In fact, she still loves using baby wash and was happy to use the complimentary sample we received for herself, saying she likes it because it smells "super good." (She's also enjoying using the Johnson's baby lotion we received for the same reason!)
A fun game we like to play while the kids are in the tub is to name each body part while washing. This helps our baby boy learn the names and we also take the opportunity to practice learning the same words in Spanish. Of course, we also let him fill and empty the cup several times in order to encourage exploring the properties of water.
To help you celebrate Mother's Day and care for your baby, Johnson & Johnson is currently offering a free 1-year subscription to Parents or Family Fun magazine. All you have to do is purchase $9 (or more) worth of participating products at Walmart within one shopping trip from now through May 31, 2013 and send in your receipt. Easy, right? You can see more details in the image below.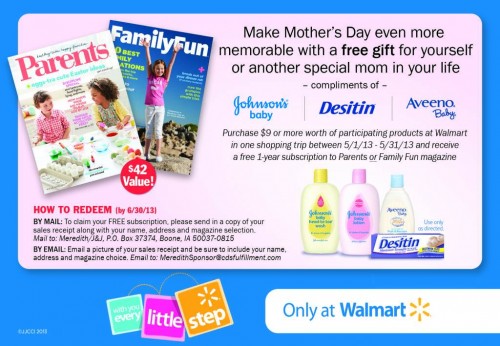 What is your baby's bath time ritual?
Disclosure: As a participant in the Walmart Moms Program, I received samples and compensation for my time and efforts in creating this post. All thoughts and opinions are my own.
Photo © Melanie Edwards/40weeks Plus