{Sponsored content}
Though two-years-old may seem young for a first bike, we recently decided to get our baby boy his first bike so he can begin to learn to ride along with his big sister. Since May is National Bike Month and Walmart has free shipping on all bikes this month, we took advantage of the opportunity to purchase our baby's first bike. He doesn't yet know how to ride his bike, but he sure does look good sitting on it! Plus, it's cute to see him trying and it will be a great way to get him started early on learning.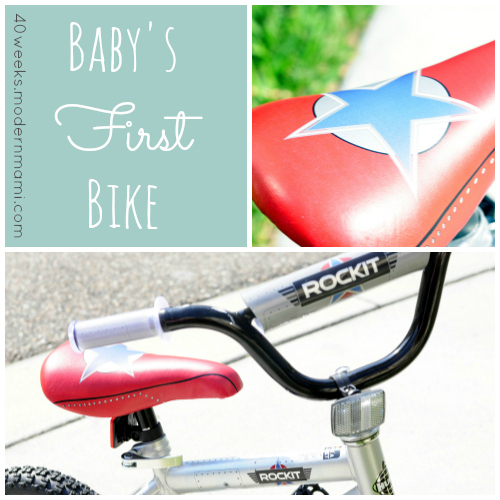 Riding bikes is something that's almost like a rite of passage for kids. Our older daughter is working on learning to ride her bike better and has a goal of riding without training wheels this summer. Since we know we'll be spending a lot of time outside with her practicing to ride her bike, it seemed fitting to get baby boy his own bike so he can join the fun! Who knows? Maybe he'll get the hang of pushing the pedals and begin to actually ride a bit. Regardless, at least he has that first bike that he can practice with in the coming year.
Our baby's first bike is the 12″ Huffy Rock It Boy's Bike from Walmart, which we chose because it is a good size for him (our boy is tall for his age). It actually still gives him room to grow into it as he gets a little older. The price point of $39.97 is fair too for a first bike that he'll use to learn to ride. Did I mention that Walmart offers free assembly on most bikes? Our bike was already assembled when we arrived to pick up our Site to Store order, so it was super convenient.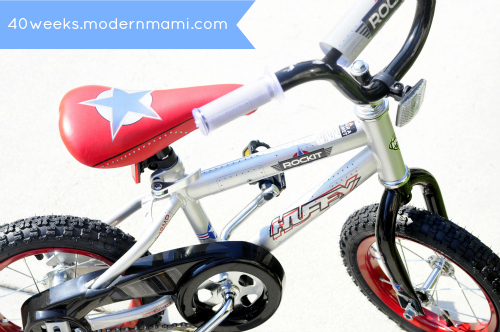 Our baby boy loved his bike when he saw it at the store and especially likes the star on the seat! At only two-years-old, it's these little things that make him happy. It's wonderful to see our baby boy so excited about his first bike. When we went to the store to pick it up, he right away said, "Is that my bike?!" and beamed as we walked his bike out to the car. Now at home, he continually points to his bike and announces, "That's my bike…see?"
Does your toddler have a bike yet?
Disclosure: As a participant in the Walmart Moms Program, I received compensation for my time and efforts in creating this post. All thoughts and opinions are my own.
All photos © Melanie Edwards/modernmami™