A new year means a new you! No more getting caught off guard with whatever life throws at you and that means being prepared for whatever comes your way. As parents, we know how fast little kids can go from clean to dirty in a matter of seconds. I've been caught without essentials like diapers and/or wipes before – let me tell you, it wasn't pretty. It's especially bad when the kids are sick or you're in the middle of potty training your little tot! That's why it's great if you can remember to keep emergency diapers and wipes in the diaper bag (of course), but also in your car. To make sure you have all you need for those unexpected situations, take advantage of the Stock Up and Save event going on now at your local Walmart!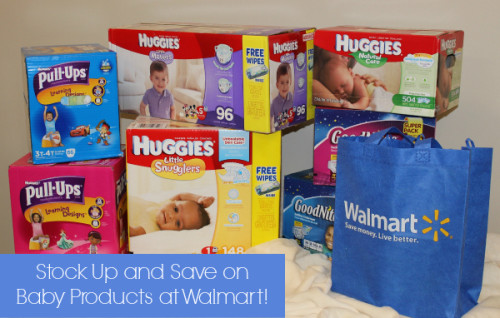 Now that the holidays are over, it's time to start saving money on all your favorite essentials for infants to children. The Walmart Stock Up and Save event features a variety of baby and child care products on sale from brands like Huggies, Pull-ups and Goodnites. This sales event has everything you need to stay prepared, whether you have an infant, potty training toddler, or young child!
Stock Up and Save on Baby Products at Walmart!
Check out the savings you'll find, plus head over to Walmart.com to find printable HUGGIES coupons and coupons for all of these products!
If saving money on diapers and training pants isn't exciting enough, during this limited time event, diaper packs will include free FROZEN wipes. This is a great deal if you have little FROZEN fans in your home and at this point, who doesn't, right?
Get a head start on the new year and take advantage of the Stock Up and Save baby product sale at Walmart!