This past Saturday, my mom surprised me with a baby shower! Friends and family gathered at her house to celebrate the coming arrival of our baby boy. My baby girl thought it was a fun idea and was also surprised; plus, she loves a good party!
You may be used to cucumber sandwiches, veggie platters, and deli cuts being served at baby showers – unless you grew up in a Latino house. Then, you might be used to seeing a full spread of food served. Here's a glimpse at what my mom served: arroz con gandules, pernil, BBQ chicken, meatballs, potato salad, and piononos.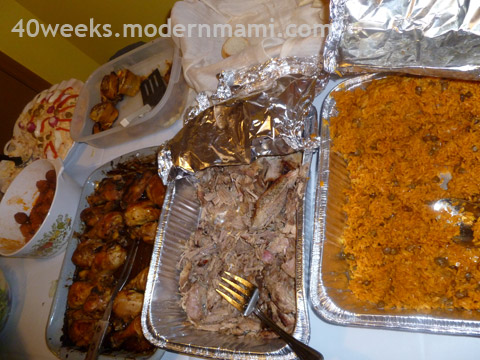 We played some baby shower games too, like:
Don't say the word "baby" and collect the pacifier necklaces from those who do.
Who can drink the fastest from a baby bottle?
Guess how big the mom-to-be's belly is.
Baby girl enjoyed playing some of the games and even collected many pacifier necklaces by tricking guests into saying "baby." How did she do that? She would ask them "What does bebe mean?" And, of course, they would say, "It means baby in Spanish." Ha!
One of the highlights of the night for me was seeing my baby girl dance merengue with my dad. It reminded me of when I was her age and he used to do the same with me and teach me how to dance. It made me get teary-eyed, to be honest. Then, I had the pleasure of seeing my mom and dad dance together – something they haven't done in years, that I've seen anyway! Couple that with pregnancy hormones and I was sobbing!
We had a great time, received many cute baby clothes, and ate entirely too much! Plus, my mami was super happy to have guests in her house and be surrounded by family. Thanks mami for a great shower!
Did you have a baby shower? How does your family celebrate such an occasion?